The dynamic of a family is one of the most important as well as one of the most difficult interpersonal dynamics to consider. There is an incredibly strong connection between family members, whether it's simply sharing name and blood, or a deep and fulfilling love. And just like any interpersonal dynamic between people who care about each other deeply, conflict and issues can arise. However, the reaction and interaction regarding this conflict is a very unique one compared to conflict or issues with non family members or individuals who you aren't as close with. The closeness and care that is involved in a familial relationship can make conflicts and issues much more intense or deep cutting, and it can feel like an obligation at times to love them.
But oftentimes, that obligation feels like an important one, and one that is worth caring about and working for. Family therapy might seem like an aggressive step, or something that makes the issue/conflict a little too real. But recognizing the issue and taking the steps to work towards a cohesive solution is one of the most loving actions you can give to a family member. And the safe space of our Family Therapy services at Texas Online Counseling is a great place to start that journey. Keep reading to learn a little bit more about family therapy, why it may be a good idea for you and your family members, and how Texas Online Counseling can help.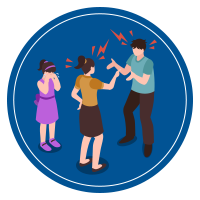 Reasons For Family Therapy
For many folks who are considering family therapy services, they can feel a bit hesitant about diving in. They might be worried how other family members will react to the idea, or how the use of family therapy requires an acknowledgement of an issue within the family. Some folks may even just think that any severe family issue should be dealt with by the family. But in reality, every single family out there can benefit from the safe-space that family therapy provides. While there is likely a specific issue that brings you to this page, the main reason for utilizing Family Therapy Services like the ones we offer at Texas Online Counseling should always be to grow together as a family, and work towards a common goal of supporting each other as a family should. But there are still some severe issues that need to be approached with the right therapeutic method. These issues include:
A traumatic loss in the family, whether a pet or a grand-parent.
Gaining a new member in the family i.e. a pet, foster child, a boarder, a new parent, a relative, a baby.
Differing parental styles
Cultural and tradition differences
Divorce
Abuse
Addiction
Mental illness
Physical illness
Loss of income or job
Gain in income or wealth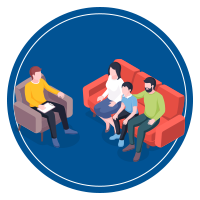 Approaching The Family As A Whole
Family therapy is a form of psychotherapy but the important difference is the method of approach. Our dedicated counselor is not here to individually psychoanalyze each member of the family; instead, they approach the family as a larger cohesive unit and look to discuss each individual's thoughts and tendencies, and the path to fostering more positive and cohesive relationships between all. While individual therapy can always be beneficial, family therapy like the family therapy services we offer at Texas Online Counseling looks to support and improve the family as a whole. For the family unit to improve everyone has to improve and understand more, and with our team of compassionate counselors, we'll take the time to truly understand your family unit and how best family therapy can service the needs of the family as a whole.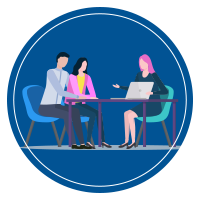 Fostering Healthy Familial Relationships
The biggest goal of any family therapy session is to foster healthier familial relationships between family members. While some of that may involve individual questions and analysis, the larger and more critical goal will always be to create a healthier family dynamic as a whole. This can involve improving your ability to empathize so as to see conflicts and issues from another family members perspective. This can also involve setting boundaries, and understanding your family members more and how you can best love and care for them. And probably the most important aspect family therapy will involve is improving the larger ability to communicate as a family. No relationship of any kind can grow and progress without open, honest, and consistent communication. And while that might sound easier said than done, the safe space we provide at Texas Online Counseling will help foster that crucial element of family communication.
Family Therapy Online – Texas Online Counseling
No family is perfect, and to expect yours to be is unfair. But family also doesn't have to be an annoying obligation or a dynamic that you just tough out. Family is both where we came from and where we are going, and while you might struggle to stand them at times, they are also your people. The imperfections of any family member is a very human trait, but oftentimes we still love them anyway. The willingness to work and grow as a family is one of the most loving acts you can do to show it, and the safe space that our Family Therapy services can provide is a great place to start. Contact us today and see how our compassionate and experienced counselors can provide the online family therapy counseling you are looking for.
Schedule an Appointment Today